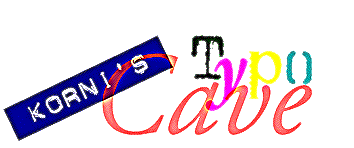 I've collected some typography related resources I'd like to share.


Click here first

How to Type
One of the typography classics on the web: David Siegel's Homepage.
Read "Typography the good, bad and ugly", and you know why the fonts you make yourself look the way they look.
Teach Yourself Great Web Design by Anne-Rae Vasquez-Peterson and Paul Chow

Font Foundries
Adobe | Apply

Typographers Dictionary
Here is a small Glossary of Typographic Terms.
A disagreeably facetious Type Glossary
And here is a real large Typesetting and Publishing Glossary.
Look for Bibliographies on Typesetting at the University of Karlsruhe (Germany).
A glossary of typographic terms from Adobe.
The Macintosh is one of the major platforms for high quality DTP. Read about Macronyms and Macintosh jargon.

Museums and Galleries
The Melbourne Museum of Printing
Museum of Printing, Boston
Graphion's Type Museum
abc typography a virtual museum of typography

Organizations
ATypI: Association Typographique Internationale
type right: fighting for typefaces as creative works and advocates their legal protection as intellectual property

Magazines
Typofile Magazine
Serif
U&lc, an online magazine from ITC.
... see also Type Books' index of periodicals.

Experiments
Type me, type me not: an interactive Java-Font-Applet

Forums
Yahoo Group: Font Maniacs - For compulsive collectors of fonts
Yahoo Group: Typography - Discussion and resource club for typeminds
Yahoo Group (deutsch): Typographix - Schriftschnitte, Satz, Buch und Papier
Typography at about.com

Conferences
2001 ATypI conference: Copenhagen, 20 to 23 September 2001.
Typo-Berlin 2002: Berlin, 9 to 11 May 2002.
2002 ATypI conference: Rome, 19 to 22 September 2002.

Worth a Visit
Sarabande's typographic history area: Lucian Bernhard's Magnet Types and Sarabande's Paper Textures
The International Center for Font Technology and Aesthetics
Have a look at this Thesis with a chapter on Typography.
Paul Baker Typography: Typesetting for the Internet
Dennis Palumbos Fonts

Books about Typography
Type Books for the well-read typographer

Personal Typo Homes
Luc Devroye's Homepage On snot and fonts.

Commercial
LettError!
Apple's beautyful typography homepage
Microsoft's typography homepage
FontLab: font makers utilities
The Fontsite: digital typography and design. Read the "Rules of Typography" section.

Education
... needs new entries.

Other Lists of Pointers
Of course, this list is not complete. Look here for further reading.
Graphion's Links
Open Directory (dmoz): Typography
---
Comments to me. Last update $Date: 2013/04/13 07:28:22 $. Hits so far: